Thrift Stores
Hinds Hospice Thrift Stores financially support the many programs we provide to our patients and their families – including Angel Babies, Circle of Friends, and Survivors of Suicide Loss. We also strive to give back to the communities we serve by offering a wide variety of goods at affordable prices. At every location, you can find clothing, housewares, books, jewelry, furniture, collectibles, and more! We also offer daily and weekly discounts at every location. We invite you to shop with us or donate at one of our stores. Your purchases and donations support families right here in the Valley.
Clovis Thrift Store
Chowchilla Thrift Store
Madera Thrift Store
Don't forget to LIKE us on Facebook for updates on the best deals and upcoming sales!
Clovis Thrift Store Facebook Bargains
Madera Thrift Store Facebook Bargains
Chowchilla Thrift Store Facebook Bargains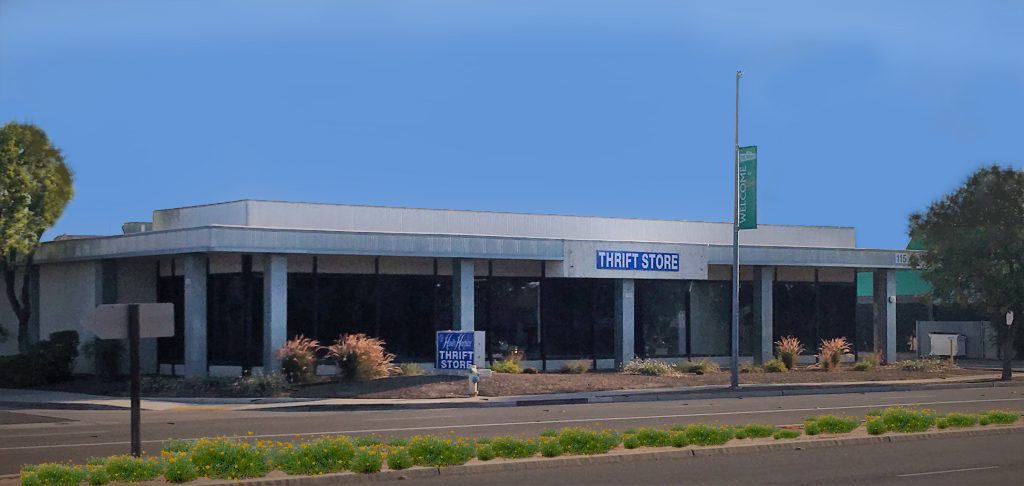 Safe shopping in our stores
Face coverings are required for unvaccinated customers.
Staff continues to clean and sanitize commonly touched areas.
If you are experiencing any cold or flu-like symptoms, please postpone your visit to another time.
Thank you for keeping our customers and staff safe!
Locations & Hours
​CLOVIS
115 Shaw Ave. Clovis, CA 93612
​Store Hours :
Monday – Saturday, 10 a.m. – 5 p.m.
Donation Drop-Off Hours:
Tuesday – Saturday, 10 a.m. – 3 p.m.
Call 559-892-2120
———————————————————-
​MADERA
125 N. "D" Street, Madera, CA 93638
Store Hours:
Monday – Saturday, 10 a.m. – 5 p.m.
Donation Drop-Off Hours:
Tuesday – Saturday, 10 a.m. – 3 p.m.
​​Call 559-892-2120
————————————————————
CHOWCHILLA
1404 Robertson Blvd.
Chowchilla, CA 93610
Store Hours:
Tuesday – Saturday, 10 a.m. – 5 p.m.
Donation Drop-Off Hours:
Tuesday – Saturday, 10 a.m. – 3 p.m.
​​Call 559-892-2120
Donations
Hinds Hospice Thrift Stores rely on community donations to remain operational, and every donation helps. We accept most gently used items that are in working and usable condition. Items that are in-need of repair or refurbishment cannot be accepted. If you are unsure whether your donation is acceptable or not, simply give us a call or visit a store. The following items cannot be accepted for donation:
Furniture that is broken, torn, stained, scratched or showing excessive wear
Personal Care Items, Cosmetics, Food, or Beverages
Batteries, Chemicals, and Cleaners of any kind
Medications, Medical Devices or Machines, and Oxygen Tanks
Vehicles, Boats, and Pianos
Mattresses, Box-Springs, Bean Bag Chairs, and Car Seats
Fuels, Oils, Auto Parts, and Tires
Building & Construction Supplies
Weapons and Ammunition
Fireworks and/or Explosives
Stores can also accept donations directly during their drop-off hours.
Donation Pick Up Services
To better serve our donors, TWO donation pickup options are now offered.
Our regular Free Pick-up, and low-cost Express Pick-up
Click on the floating blue button to see your pick-up options.
Free donation pick-ups can be requested via our Donation Trucks, and are scheduled Monday through Friday, 9 AM to 4 PM.
Express donations can be scheduled through Resupply for a small fee.
We are unable to enter your residence to retrieve your donations.
All donation items must be placed in an area we can access outside your home, or we can collect them from inside your garage if someone will be home.
Volunteers
Wanting to give back to your community? Need job experience? Need to complete service hours? If you said yes to any of these questions, then volunteering with us may be for you! We are looking for friendly folks to assist with merchandising, sorting and pricing donations, cashiering, customer service, and more! If you would like to volunteer at one of our locations, please call the Volunteer Department at 559-317-6016, or send us an email at volunteer@hindshospice.org. You can also visit any of our stores directly.
For additional information on our Thrift Store operations, please contact Desmond Davila, Director of Thrift Store Operations, at (559) 248-8568.