Events & News
---
Thank you for supporting the 2023 Angel Babies Walk/Run
If you ordered a marker, but were unable to pick it up at the Walk/Run you can come to:
The Center for Grief & Healing at Hinds Hospice
2490 W. Shaw Ave., Fresno, CA 93711
Monday -Friday 8:30 to 4:30
Call (559) 248-8579 for more information
Thank you to all who attended or supported our Angel Babies Walk/Run this past weekend! Since its inception in 2001, the Angel Babies program has supported more than 4,800 families in their grief journey. Event supporters and over 1,000 participants, walkers, runners, families, and teams on hand May 6 for the 2023 Walk/Run helped to raise more than $100,000 in support of the program and its mission: to comfort, support and uphold the dignity of families whose babies have a life limiting condition or whose babies have died.

Hinds Hospice and the Angel Babies program wish to express our gratitude to the event's sponsors: Longtime supporters CalWest Rain and Valley Iron, Inc.; Archangel supporters Derrel's Mini Storage, Fashion Furniture, the Insurance Industry Charitable Foundation, and the Lord of Life Church Endowment; Guardian Angel sponsors Community Medical Centers, Guarantee Real Estate, and Kaiser Permanente; and Earth Angel sponsors Der Manouel Insurance, Regency Investment Advisors, Steve Moore Farms; the family of Sydney Leslie and Colten C.J. Regier; the family of Rhyanna and Avery Aleman; and the family of Alexander Lance Freeman.
Our gratitude also goes to all the organizations that helped to make the 2023 Walk/Run so memorable: The North Fresno Lions Club, Denny's and Lyons Magnus for breakfast; 84 Lumber, Valley Iron, Sherwin-Williams and the Leslie/Farmer Family for the beautiful Angel Markers; Kid's Zone supporters Der Manouel Insurance, DLL Insurance, Fresno State's Kinesiology Pedagogy Club, Paige's People, The Gilbert Family, The Dangelat Family, and The Thomas Family; our event partners The Brownie Baker, Les Schwab, Praxair, and Starbucks; Wings Away Dove Release, as well as the many local businesses that donated raffle prizes.

Special thanks go to Race Director Ray Keyes-Bramlett, Event Planner Jana Doggett, volunteer Diana Farmer for making the beautiful Angel Markers every year, broadcaster Rose Ortega for serving as master of ceremonies, and to the numerous volunteers who worked so diligently to assure a successful and fun event. We cannot do it without you!

Our sincere thanks go especially to all who participated, fundraised, and brought their teams together in support of Angel Babies! Your support allows the Angel Babies program to help families during their most difficult hours.

The next Angel Babies support group starts Tuesday, June 6, 2023. Please call (559) 248-8579 for additional information or to register.
---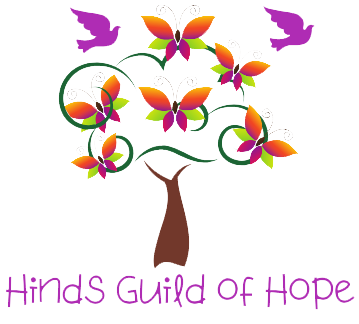 Thank you for supporting the Hinds Guild of Hope Noon Tea
The Hinds Guild Of Hope High Noon Tea was held Friday, March 24 – Fresno Fields by Wedgewood Weddings.
Thanks to the efforts of the Hinds Guild of Hope, many guests, volunteers and sponsors, the 2023 Noon Tea raised funds to help support pediatric programs at Hinds Hospice.
Because of their effort, Hinds Hospice can better support many critical but underfunded programs, like Circle of Friends Grief Support, which provides a safe space for children and teens to experience and process grief after loss. Like our Hinds Kids Pediatric Program, which provides terminally ill children comfort and quality of life as they navigate this journey. And our Angel Babies perinatal hospice program, which brings comfort to families receiving the news that their newborn or unborn child has been diagnosed with a life-limiting condition.
If you would like to help, there is still is still much more to do for our pediatric mission, and a waiting list for children to join our Hinds Kids Concurrent Care program. Please click here or call (559) 320-0308 to help or learn more.
---
If you would still like to support our unfunded and underfunded grief support programs, please click here, or call Hinds Hospice at (559) 320-0308. You may also email us at funddevelopment@hindshospice.org with any questions. Thank you!
Hinds Hospice complies with all Federal Civil Rights laws and does not discriminate on the basis of race, color, national origin, age, disability, or sex.