Begin Hospice Care
Hello, and welcome to Hinds Hospice. If you're just learning about hospice, you may be feeling some anxiety about choosing the right provider. If you're well-versed, you may wish to start care immediately. Wherever you might be in your hospice journey, we're here to help.
Hinds Hospice is a nonprofit organization. The agency was founded in 1981 by Nancy Hinds, who saw the need to care for patients with life-limiting illnesses and their families. Much about hospice care has changed since then. This specialized medical care is more readily available, and such care at the end of life is more widely accepted by patients and families. One thing that hasn't changed is our dedication to helping families when they need us.
We hope to answer some of your questions here, but please feel free to call as well.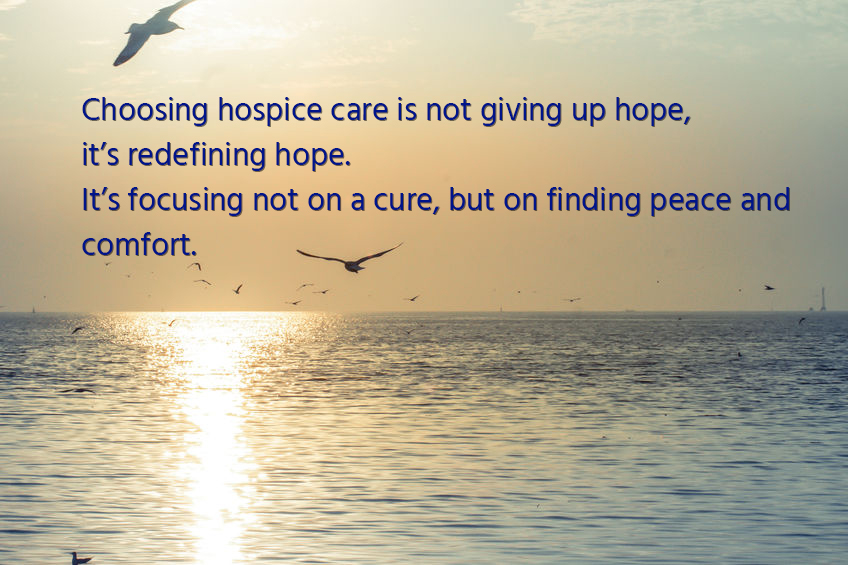 Do you need hospice care?
A common question asked by those considering hospice care for a loved one is, "When is the right time?"
A growing number of caregivers are finding the correct answer to this question to be "as early as possible." Choosing hospice care is not giving up, it is redefining hope and focusing on peace and comfort instead of a cure.
The Hinds Hospice professionals specialize in end-of-life care, and should be called upon during the first stages of a terminal illness to ensure that you and your family members can benefit from all the services hospice has to offer.
Hospice Eligibility Criteria
A person of any age is eligible for hospice care after being certified by a physician as having a life expectancy that may be six months or less, depending on the course of their disease. Another requirement is that patients who elect hospice must forgo curative treatment, either because they no longer wish to receive it or because it is no longer effective. Of course, even terminal health conditions do not progress in a predictable manner. If a patient lives beyond six months after admission into a hospice program, they can continue receiving services as long as a physician continues to document their eligibility. In some rare cases, individuals have remained eligible for and received hospice care for a year or longer. This type of care enables families to navigate the end of life together, in the setting that is most comfortable for them. In most cases, our patients remain at home, close to family and friends while under professional medical supervision. An interdisciplinary care team is assigned to each hospice patient. Each team member is entirely focused on the person, not their illness. Their goal is to make sure that all physical, emotional, and spiritual needs are met.
You have the right to choose the best hospice
When Hinds Hospice began in 1981, there were only two options for hospice care in Fresno. Today, there are nearly 20 hospice providers in the Central Valley. With so many possibilities, it can be difficult to choose the best hospice for you.
The majority of agencies are for-profit. Although both nonprofits and for-profits provide patients and families with an interdisciplinary team that provides pain management and symptom relief, there are still differences to consider when choosing a hospice provider.
Hinds Hospice offers a higher level of medical care:
As a nonprofit, Hinds Hospice routinely admits patients in need of more complex medical care. We also operate a six-bed hospice home that is available when pain and symptoms cannot be managed in a home setting, thereby providing a continuum of care that no other hospice in our region can match.
Hinds Hospice offers expanded grief programs:
Because of our community support, Hinds Hospice is able to use donations to ensure we are able to provide expanded grief care services, including specific children's grief programs, special recognition of veterans, the fulfillment of end of life wishes, education opportunities for caregivers and the public, and much more. For us, the care and support of those in the community is heavily embedded in our mission.
Hospice Compare:
Regardless of nonprofit or for-profit status, Medicare provides a way for patients and families to directly compare hospice providers on their Hospice Compare website. Ratings are based on the opinions and experiences of caregivers and will give you an idea of how each provider ranks in multiple categories, including the willingness to recommend, responsiveness, communication with family, dignity provided to patients, spiritual care, and more.
How is hospice paid for?
There is no reason to defer hospice care due to financial concerns. The Medicare Hospice Benefit is an inclusive benefit, in which all services that are related to the terminal illness are covered up to 100 percent by Medicare Part A. Care that is unrelated to the terminal illness continues to be covered by Medicare Parts A and B, with all normal rules applicable (e.g., co-payments, coverage guidelines and deductibles).
Coverage includes everything involved in hospice care, from visits by a nurse, physician, and other healthcare professionals to therapy, medication, and supplies.
Insurance, Medicare or Medicaid?
For those not eligible for Medicare or Medicaid, payment for hospice can come from private insurance or an HMO, since these also include a hospice benefit.
Facing a terminal illness brings with it many concerns. Paying for end-of-life care shouldn't be one of them.
Who pays for hospice care at home?
The Medicare Hospice Benefit covers end-of-life services related to a patient's terminal diagnosis in whatever setting the patient calls home, whether that is a traditional residence, an assisted living facility, or nursing home. Wherever hospice occurs, all services related to the terminal diagnosis are covered up to 100% by Medicare Part A.
If the patient's symptoms cannot be managed by the routine level of hospice care, additional levels of service, such as 24/7 continuous care or inpatient hospice care, will also be financed through Medicare Part A at no additional expense to the patient or family.
Does Medicare pay for hospice in a skilled nursing facility?
Yes, hospice services provided in a nursing facility are covered by Medicare. In a nursing home setting, hospice helps patients, families, and nursing home staff by providing end-of-life resources and support. The Medicare Hospice Benefit covers services, medications, supplies, and equipment that are related to the life-limiting illness. It does not, however, cover expenses associated with room and board. These skilled nursing facility room-and-board expenses are often covered by Medicaid when the patient meets the state's financial eligibility requirements. The Medicare and Medicaid Hospice benefit also includes a provision for respite care and inpatient care, which can be provided in a nursing facility for short stays. When the need for respite or inpatient hospice care is identified by the hospice team, the total costs associated with the care are covered under the hospice benefit.
The Medicare Hospice Benefit
The Medicare Hospice Benefit provides coverage for the following services:
An interdisciplinary team of hospice professionals
Home medical equipment
Medication
Respite care
Continuous care
Inpatient care
Routine home care
Bereavement support
Source: NHPCO's Facts and Figures: Hospice Care in America
Contact us Now