Pet Visit Volunteer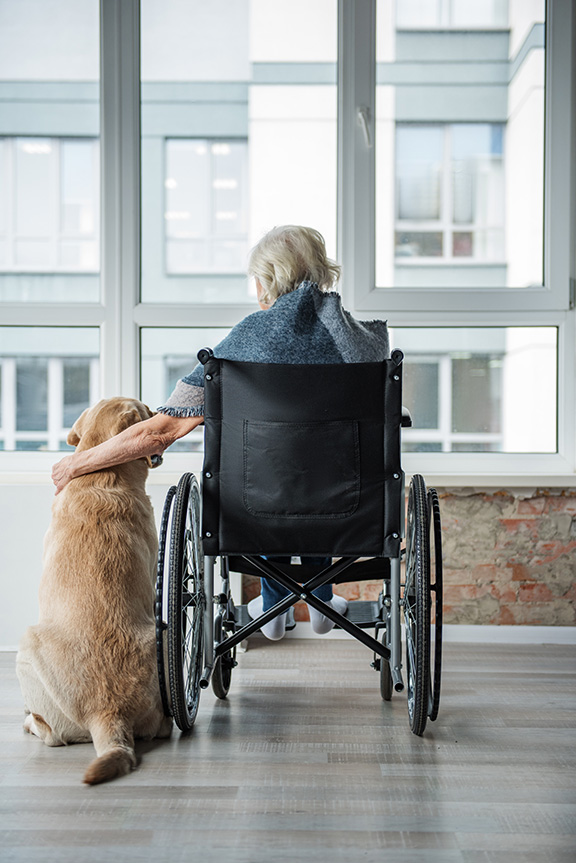 Is my dog a good fit?
A prospective Pet Team dog needs both nature and nurture:
● Dogs should not be flustered by loud noises, active environments, strange smells, crowds and/or distractions.
● The dog allows the occasional ear and tail pull, lots of petting as well as the frequent grope, grab, and body hug.
● The animal walks on a variety of surfaces and deals with stairs, elevators, parking garages and automatic and revolving doors with ease.
● A dog must forgive easily if someone accidentally bumps or steps on it.
● Dogs must not jump on beds, chairs, or tables without permission and allow the handler to position them for the client's comfort.
● Dogs provide "equal opportunity" affection – they like people regardless of sex, race, age, facial hair, disability, vocal tone, or apparel.
● They should be familiar around such "unusual" apparatus as wheelchairs, walkers, canes, and IV stands.
● Dogs that display displacement or stress signals help their handler identify stressful situations or needed breaks. Clusters of signals may indicate the dog does not like a specific client, facility, or visiting role at all.
After you complete this self-study training, we will schedule an aptitude test which is designed to simulate conditions that may be encountered on a visit. This screening helps determine the most appropriate environment for you and your animal.
About the Program
Animals have long been recognized as a positive force. Dogs have a calming and therapeutic effect. They help people cope with the emotional issues related to their illness. They also offer physical contact with another living creature, which is often missing in a hospice patient's life. They can also invoke pleasant memories of past pets. Best of all, they divert a person's attention from the pressing problems of the day.
Volunteers interested in the Dog Visitor Program must satisfy all the orientation and onboarding requirements of the Volunteer role. In addition, dogs must pass The American Kennel Club Canine Good Citizen exam and be vetted through the Hinds Hospice Dog Visitor vetting process or meet the requirements and be registered with Pet Partners, Therapy Dogs International, or other accredited certifying therapy dog association which provides liability insurance to their members.
Animal Assisted Activities
We do not use the term "Pet Therapy." Although our dogs are vetted or certified, our volunteers are trained, and it feels very therapeutic to have a pet visit; neither dog nor volunteer is licensed in "therapy," nor do they require continuing education to maintain certification. Furthermore, it appears that even the certifying bodies with whom handlers must register their pets are moving away from the term Pet Therapy. The current terminology that is used is "Animal Assisted Activities," which better reflects the scope of our Hospice Dog Visitor Volunteers. Animal Assisted Activities provide opportunities for motivational, educational, and/or recreational benefits to enhance the quality of life. These activities involve pets visiting people. It is the simple acts of kindness, compassion, and caring that make a program like this successful.

As part of the interview process, the Pet Team (Dog & Handler) attends a basic dog obedience and temperament interview with the Volunteer Director/Coordinator. Dogs in our program must have an annual vet exam with current vaccinations on file. Pet Teams must comply with our protocol for visiting etiquette and infection control.

Pet Team visits may not be appropriate for every situation. We need to be especially vigilant of patients who view pet visits as threatening, patients who dislike or fear animals, patients with allergies to animal hair or dander, patients with open wounds or infections, and patients who view pets differently due to their cultural background. Our Hospice Dog Visitor Program is a true partnership in care, which we are confident will bring many hours of joy to patients, family members, and our staff.
Contact us for more information
Hinds Hospice Volunteer Department
(559) 317-6016
volunteer@hindshospice.org