Patient Care Volunteers
Patient Care Volunteers complete an interview, application, turn in required immunizations, background check, complete online learning and go through a one-day training program before they are allowed to work with patients.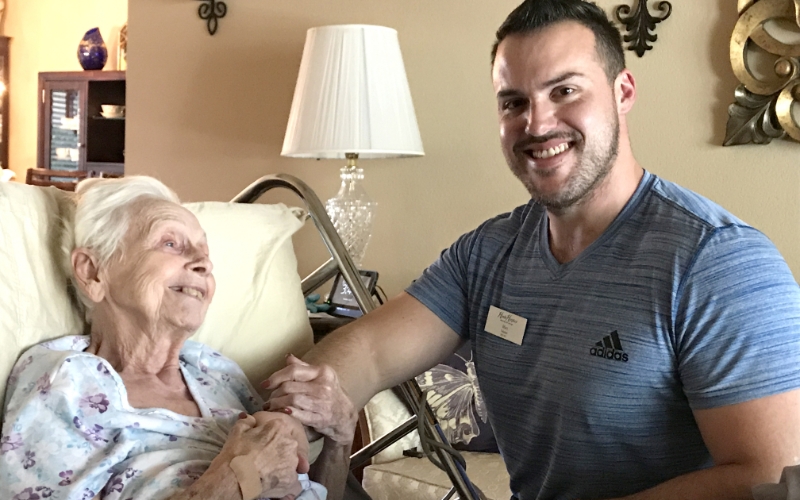 Volunteers Can Help
They can help by taking the time to sit with your family member so that their caregiver can make that doctor's appointment or go to the grocery store or enjoy an evening at the movies. They have the time and desire to share a cup of coffee, trade stories, wisdom, help make memories with their patient for their families, or simply share the silence that often accompanies when friends spend time with each other with no need for words.
Be a Companion
Our volunteers are here to be a companion to our patients and offer the caregiver a much-needed breather and helping hand. Our patients and families' needs define what we do…Our families have already met the doctors, the nurses, and other health care professionals who are assisting in the care and comfort of their loved one.
Give Caregivers a Break
Some of our volunteer's favorite things to do with our patients are spending some time with the patient by playing cards, watching a ball game, listening to a life's story, holding a hand, talking with a troubled family member, making the coffee, help write a letter or journal to leave for their family, or even just give the caregiver a break so they can take some time to themselves. Every family has its own special needs and Hinds Hospice works closely with each family to learn more about their needs, the patient's likes/dislikes, and then does their best to match each patient and family with a volunteer who can best accommodate their wishes as well as being someone who the patient and family will be comfortable with.
Who are our wonderful volunteers, you ask?
They are everyday people like you, they are your neighbors, co-workers, family members and friends. They hold down various jobs, worship in various places, and represent various ethnic groups.
Share the Passion to Give Back
They are men and women who share the passion to give back. From the volunteers who have experienced Hinds' services within their own family/own circle to our college pre-med students who want to experience and learn how to show and speak to their future patients and families with empathy. Our volunteers have the opportunity to interact and form friendships that oftentimes last a lifetime. Our volunteers bond through their experiences with their patients, ongoing education provided by Hinds Hospice, fun get togethers, appreciation events and more. Our Patient Care Volunteers are extraordinary people, doing extraordinary work every day!
Ready to volunteer?
Contact us for more volunteer information.