Nancy Hinds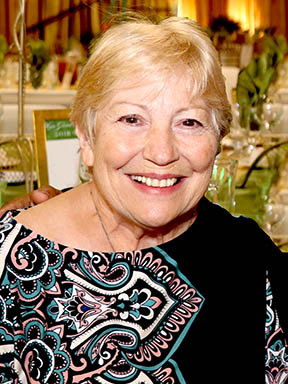 Nancy Hinds
R.N., Founder of Hinds Hospice
Nancy Hinds was called to serve. Born Nancy Bochin in Cleveland, Ohio, she was aware from early childhood that she wanted to become a nurse and care for people. Finding her purpose at a young age allowed Nancy to spend her life fulfilling her dream to serve others.
Nancy studied nursing at St. John's College in Cleveland, Ohio. It was there that she became interested in missionary work. "I knew I had a burning desire, and when I heard about missionary work, I knew this is what I needed to do," Nancy says. After graduation, she worked for more than a year in the intensive care unit at Cleveland Clinic Hospital. In that time, she saved enough money to pay for her first mission to the West Indies. At the age of 23, Nancy Hinds began her journey as a missionary nurse.
Nancy worked in the West Indies for one year as a surgical nurse, and she also gave nursing instruction to native students. This experience convinced her that she wanted to continue missionary work. "It was a shock to me that on a small island there was an enormity of wealth on one side and poverty on the other," Nancy says. "The people were wonderful to me, and I was positive that I wanted to do missionary work after this experience."
In the late 1960's, Nancy went to New York to sign up with the Catholic Medical Mission board for a four-year contract to Vietnam where the war was raging. The Board requested that she go to Nigeria, West Africa, for one year. Volunteers were urgently needed there due to the Biafran war, so she went as part of an emergency relief team. She soon found herself in the middle of a war zone in Nigeria. "There were machine guns everywhere, and soldiers were always around," Nancy says. "The soldiers got the word "missionary" and "mercenary" mixed up. They used to take us out of our vehicles and search us. To them, we were white so we were a possible threat." Nancy's work in Nigeria was primarily with malnourished children, and she remembers the sadness of the village where children were sick and crying. "The emotion I remember feeling was outrage," Nancy says. "I felt there was no such thing as a just war. How do you justify war when the victims have no decision?"
In 1969, during her time in Nigeria, Nancy met Godfrey Hinds, who the locals knew as the "white doctor." Godfrey was from Ireland, and had been working as a missionary doctor for 20 years. "We were thrown into difficult situations together and worked under extreme conditions," Nancy says. "Everything was so true. There was a pureness in our relationship." After working in Africa for 21 years, Godfrey took a leave and returned to Ireland. When Nancy finished her tour in Africa, she reunited with Godfrey in Ireland, and they were married at the Convent of the Medical Missionaries of Mary, where 21 priests and 17 nuns acted as witnesses. Bound by a union of love and service, Nancy and Godfrey continued their foreign missionary work together.
When their firstborn son Sean was six weeks old, the family set out for Uganda, in East Africa, to take up a position with the Medical Missionaries of Mary at Kitovu Hospital, near the city of Masaka. A year later, the regime of Idi Amin became intolerable, and an opposition army was formed with the support of Tanzania. The hospital in Kitovu was right in the path of the conflict. Nancy was eight months pregnant with their second child and did not want to leave. When the bombs came so close that pieces of ceiling were falling on the bed of their 18-month-old son Sean, they were convinced to leave Uganda.
The Peace Corps, which was transporting volunteers to the Entebbe airport, evacuated Nancy and Sean. Godfrey stayed behind to add some measure of protection for the remaining missionary sisters. Nancy said goodbye to Godfrey, feeling as if she would never see her beloved husband again.
Before leaving Uganda, Nancy needed to find a safe place to hide the Travelers Cheques she had saved for the journey. She sewed the Cheques inside of Sean's diaper, cringing every time the soldiers took Sean from her at roadblock searches. Nancy and Sean made it safely back to Belfast, Ireland, Travelers Cheques and all.
Expecting to deliver her second child in Belfast, Nancy faced terrible violence from the Belfast uprising of 1972. Back in Cleveland, Ohio, Nancy's worried parents wired her money to return to the United States. Nancy decided it was best to return to America, and recalls that she was fortunate to be allowed on the plane. The airline did not ask her how far along she was in her pregnancy. She would not have been allowed to board if they had found out she was weeks away from her due date.
Fortunately, Godfrey managed to get out of Uganda, and joined his family in Cleveland, just in time to see a healthy son, Conor, born. They tried to settle into a "normal" life, and Godfrey initially accepting a position in Bray, County Wicklow, Ireland. The work seemed mild and routine compared with Godfrey's previous works in bush camps throughout third-world countries. Craving something with more purpose and need, Godfrey accepted a physician position in Canada, where he was the only doctor in a 1,100-mile radius.
Nancy gave birth to their third son, Patrick, in Canada, and the family returned to warmer Northern Ireland, though they were in the country during the threat of Irish terrorist bombings. Soon after, Nancy returned to Ohio to be with her mother, who had been diagnosed with breast cancer. After surgery and the start of chemotherapy, she returned to Ireland, and noticed that Godfrey seemed tired. Medical tests revealed that he had a rare, incurable form of cancer. Nancy's parents flew to Ireland, and Godfrey died there in March 1977. A few months later, Nancy's mother died from complications of cancer, and was buried in Ireland close to Godfrey.
Nancy's sense of loss was tremendous. She put her trust in God as she faced life as a young widow with three boys under the age of five. She remained in Ireland, and focused on caring for severely handicapped and terminally ill patients in her home. After three years, she decided to move to Fresno, California, to be near her father and brother.
In Fresno, Nancy worked as an oncology nurse. She realized after a few months that she wanted to be with her children more. "I was in a mode where I wanted to see them off, and I wanted to be there when they got home. I wanted to support them because they were missing their father." So Nancy returned to doing what she knew best, caring for the terminally ill in her home. "I knew I had something to offer people. I feel I can relate to people because I have some sense of what they are experiencing," she says. Nancy's home on Simpson, in Fresno, had room for four hospice patients. Open from 1981 until 1985, the home served 72 patients as well as their families. The neighbors were welcoming and kind, leaving baskets of fruit and vegetables on the porch, and offering to help lift and move patients for Nancy.
Unfortunately, The Department of Health closed down the home for not having a license to operate, even though no such license existed in the State of California. Nancy waged a two-year battle to find legislation in Sacramento that would allow for quality, in-home, end-of-life, hospice care. She was forced to sell the Simpson house, take a supervisor job, and move with her boys and into her father's house.
In 1987, armed with a license to operate, the second Hinds Hospice home was opened. Nancy had come across a home for sale that had extra-wide, gurney-friendly hallways, a prime location, and a seller who was willing to wait for her to find financing for the down payment. Nancy prayed, "Help me find the way to make this happen," and the house on West Twain, in Fresno, did happen, seemingly against the odds. To this day, whenever the unobtainable, unimaginable, or unexplainable happens, Hinds Hospice staff, friends, and family credit "the Nancy factor."
Nancy and the team at Hinds Hospice cared for Nancy's father, Hal Bochin, who was the first patient to receive care in his home. Today, Hinds Hospice includes outpatient care in the three Central California counties of Fresno, Madera, and Merced, and cares for hundreds of patients in the Central Valley.
Hinds Hospice has grown to include a Pediatric Hospice Program to support families with terminally ill children. Clinicians train staff members at Children's Hospital of Central California to care for seriously ill children, infants, and their families. The Angel Babies Program provides grief support to families who have a pregnancy or an infant diagnosed with a life-limiting condition.
The Center for Grief and Healing provides individual and support group grief after a loss. There is a Multicultural Outreach, offering a comprehensive program to Spanish and Hmong populations. Hinds Hospice provides physician education for residents and medical students from the University of California, San Francisco, and the University of California, Davis, giving formal hands-on training in end-of-life care. The Prison Hospice program educates and trains inmates serving life sentences on how to provide hospice care for fellow inmates. Three thrift stores provide discounted items to those in need in the communities served by Hinds Hospice.
Nancy's struggle to combine her callings of motherhood and nursing culminated in an inspiring model of what terminal end-of-life care, in a home setting, should be. Former board member and registered nurse Lucia Thornton says of Nancy Hinds, "She's probably the closest thing to Mother Teresa that the Valley has seen. What she does is from the heart. She transforms the lives of co-workers, patients, and their families. Nancy helps us connect with a higher purpose and meaning in our lives."